4WD World Is an Australian Distributor Of The Fox 4WD Suspension Range
Call to order on 1800 807 176
4WD World is a major Australian distributor of the Bilsteins product range
Call to order on 1800 807 176
Are Fox ideal for larger lifts?
Yes they are ideal for lifts greater than 50mm, but must be used with other suitable components (springs, upper control arms, etc).
This makes them a good choice for extreme 4WD use including 4WD competitions like rock crawling and other low speed events.
Are Fox ideal for tough outback use?
Fox are American made and built to a quality, not a price.
They will give both reliability and longevity similar to Bilsteins, which are the other benchmark brand, made in Germany.
Do I need the upper control arms?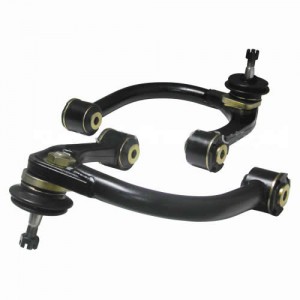 For lifts of 3 inches or more the adjustable upper control arms are essential.
They allow correct wheel alignment to give decent steering and eliminate tyre wear problems with the front end.
They also give added clearance to the spring strut unit.
These are an American made quality product designed properly to give correct camber and caster adjustment.
Without the adjustable upper control arms the standard arms run out of adjustment.
Adjustable upper control arms are ideal for:
Toyota Landcruiser 200 Series
Toyota Prado
Toyota Hilux
Plus other popular utes such as:
Holden Colorado
Ford Ranger
Mazda BT50
Nissan Navara
Isuzu D-Max
Where are Fox Shocks made?
Fox are made in the USA and are built to the highest technical specifications.
They are derived from the technology Fox have developed over 30/40 years of off road racing. This includes victories and class wins in the toughest events such as the BAJA1000, Finke Desert Race, Australian Safari and Dakar.
It is only recently that Fox have released a non-racing product suitable for road going 4WDs and SUVs.
We only have popular fitments due to the limited availability of the Fox range. However we have all the popular Utes on the Australian market including:
Toyota Hilux
Nissan Navara
Holden Colorado
Isuzu D-Max
Mazda BT50
Ford Ranger
Toyota Prado
Ford F Trucks
Jeep WK Wranglers
Call us now for a quote on a Fox kit for your 4WD Ute or Wagon.
Simply pick up the phone and call 1800 807 176.
What vehicles are the Fox Shocks available for?
As the range continues to grow, you are still best to contact us to confirm what is available for your vehicle.
Fox shocks are available for a wide range of vehicles, such as:
TOYOTA
Toyota FJ Cruiser 2006 On
Toyota Prado 150 Series
Toyota Prado 120 Series
Toyota HiluxIFS 2005 On
Toyota Landcruiser 200 Series
Toyota Landcruiser 100 Series 1998-2007
Toyota Landcruiser 105 Series 1998-2007
Toyota Landcruiser 80 Series 1989-1997
NISSAN
Nissan Patrol GU Y61 97-13
Nissan Patrol GQ Y60 88-97
Nissan Navara D40
Nissan Navara 550
Nissan Pathfinder / Frontier 2005 On
FORD
Ford Ranger T6 2012 On
Ford F 250
JEEP
ISUZU
Isuzu D-Max 2011 On Strut / Coilover Front
Isuzu D-Max 1981-2011
HOLDEN
Holden Colorado 2011 On Strut / Coilover Front
Holden Colorado 1981-2011
MAZDA
Freecall 4WD World on 1800 807 176 or get a quote below
Discover The Benefits Of Fox Suspension…